Raiders Advance to Semis
Kinkead Dent - Career Rushing Night
---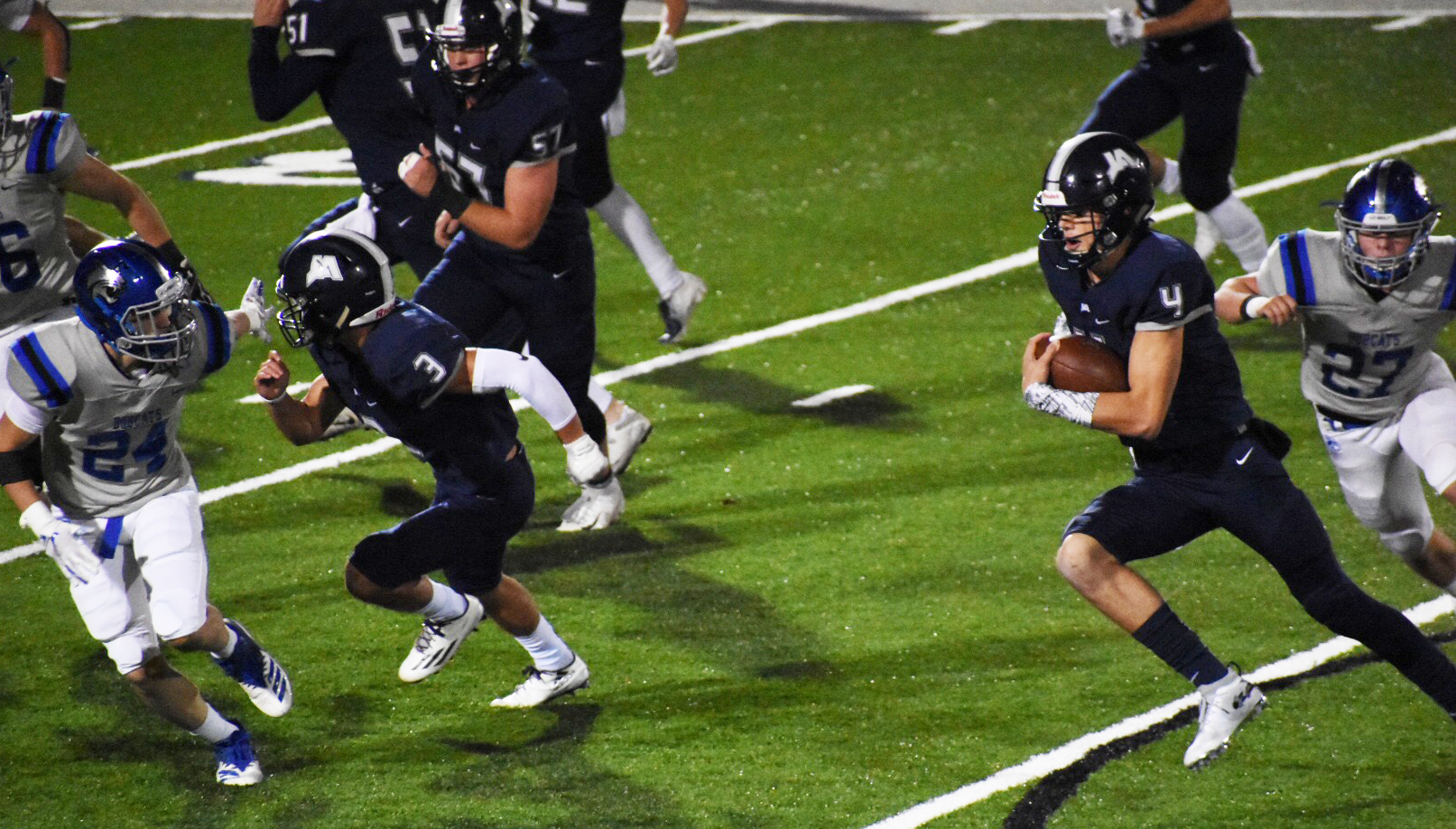 The JA Raiders started the post season in fine fashion as they hosted Presbyterian Christian School for their AAAA-1 First Round matchup at The Brickyard. The Raiders scored on every possession of the night as they coasted to a 56-7 victory over the Bobcats. The game did start with some excitement, PCS was stopped on their first drive, and then recovered a bobbled punt near midfield. But JA?s defense rose to the occasion and forced a quick three-and-out. JA marched the ball down the field in four quick plays including a Kinkead Dent 79-yard run down to the Bobcat 1-yard line. Thad Bishop punched it in for the first score of the game. On JA?s second drive of the game, Webb Strickland finished off a 5-play drive with a 21-yard TD scamper for his third touchdown of the season. Following another defensive three-and-out, Dent scored on a 66-yard run that gave JA a 21-0 lead after just the first quarter.
In the second quarter, Dent found Max Harmon on a fourth down conversion for a 31-yard Touchdown. Bishop would add two more touchdowns to the first half scoring to finish off a 42-7 halftime lead. With a running clock in the second half the second and third teams got some good playing time as Parker Ryan added two more Raider touchdowns (15 yards, 23 yards) to secure the 56-7 win.
Dent finished 6-for-10 for 70 yards and 1 TD, but he ran 7 times for 181 yards and 1 TD. Bishop carried the ball 7 times for 70 yards and netted his fourth game with at least 3 rushing touchdowns. Max Harmon led all JA receivers with 2 catches for 42 yards and his 4th TD of the season.
Defensively, Sean Lackey had a team-leading 7 tackles (4 solo) and two Tackles For Loss. Donovan Veasley crossed the 100-tackle mark with his 5 total tackles (3 solo). Caleb Hernandez and Chase Rush chipped in with 4 each, while five other Raiders collected 3 total tackles.
JA will head to the road Friday night to take on Jackson Prep in the AAAA-1 Semifinals. Kickoff at 7pm.
#WeAreJA