New Head Coach
Raider Football Has A New Leader
---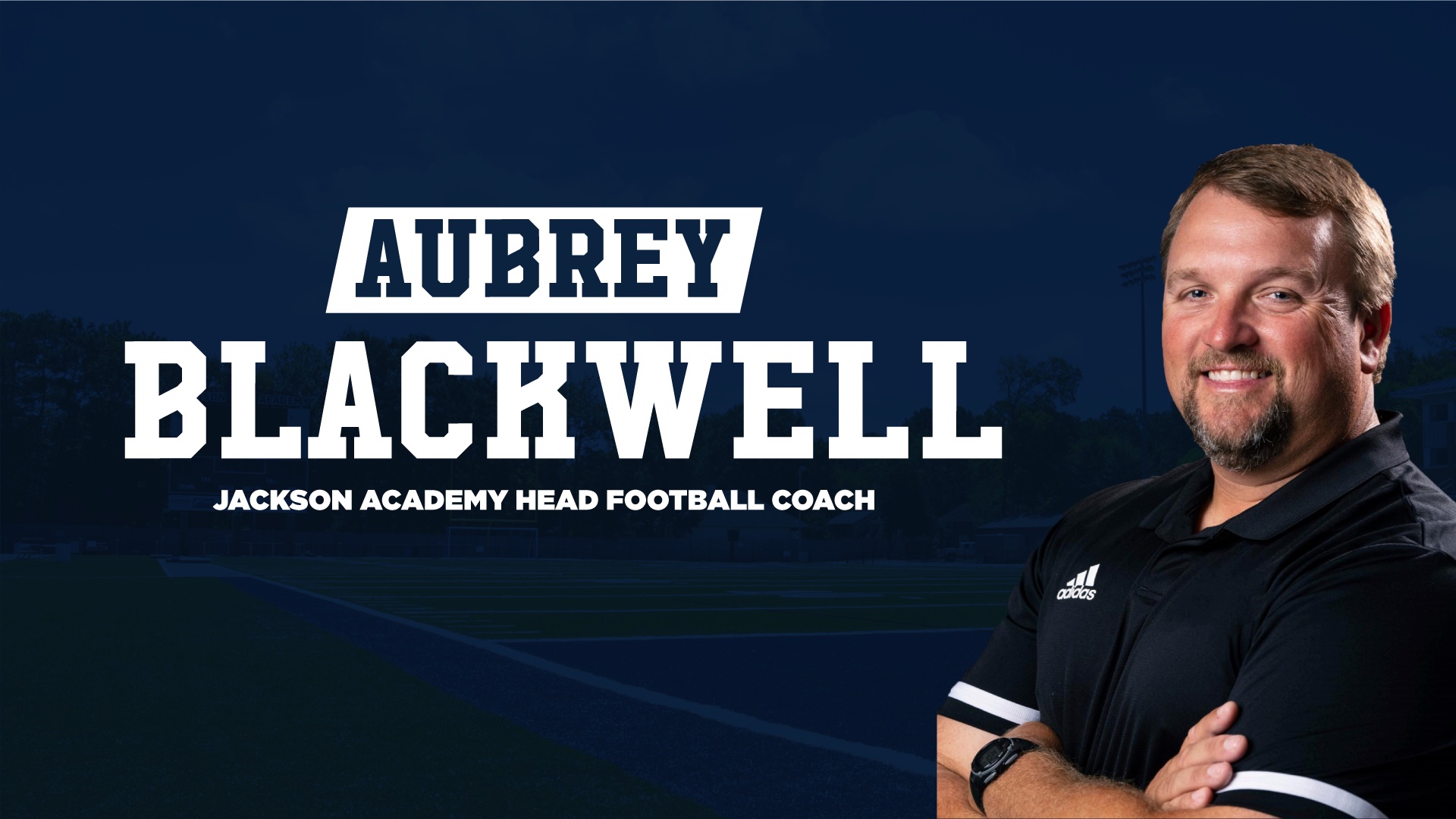 Jackson Academy is excited to announce the hiring of Aubrey Blackwell as its new head football coach. Coach Blackwell spent last season at Benjamin Russell High School. Before Benjamin Russell, he built the program at Montgomery Catholic in Montgomery, Alabama, into a championship contender. Coach Blackwell led Catholic to a 54-19 record over six seasons, including appearing in the state championship game in 2020. Before he arrived at Catholic, the Knights had recorded only two winning seasons in 19 years. During his tenure, Coach Blackwell led the team to the playoffs his last five seasons and had seasons of 10, 11, and 12 wins. He also served one year as head baseball coach at Montgomery Catholic.

Associate Head of School for Student Life Jimmy Messer had these thoughts on the hiring of Aubrey Blackwell: "This is not just a home-run, this is a grand slam! I have known Aubrey for 12 years and worked with him for three years at St. Paul's. He is not only an outstanding coach but a great human being. He helped totally change the culture at Montgomery Catholic during his time there while also winning football games. Our team will benefit from his influence on the field, in the weight room, in the classroom, and in the halls. He will be focused not only on coaching athletes in the game of football but also on preparing them for the game of life. I believe exciting times are ahead for JA Raider football and our entire athletic program!"

Before Catholic, he served as offensive coordinator at St. James in Montgomery for two years, leading the team to an 8-3 (6-1 region) record during his second season. Coach Blackwell also served as an offensive and defensive assistant at St. Paul's in Mobile for three seasons, helping lead them to 32 wins in three years while also serving as an assistant varsity baseball coach. He has led offenses that have set records for overall offense, passing offense, and rushing offense during his career. Coach Blackwell has received numerous coach of the year awards.

Before returning to high school coaching, he spent time at the University of Montevallo and Campbell University as assistant baseball coach. He played college baseball at Central Alabama Community College and The University of Montevallo, where he was recently inducted into their athletic hall of fame. He is also a member of the hall of fame at Robert E. Lee High School, where he played quarterback and was a key member of the school's baseball program.

Coach Blackwell is known for building great cultures in his programs and producing young men who learned the game of football and the game of life. He has overseen facility improvements at each of his stops, including helping to raise funds while doing much of the work himself. He is in high demand as a speaker on issues of coaching, faith, and culture and was selected in 2016 as one of Montgomery's Outstanding Young Leaders by RSVP Magazine. He was also chosen as the University of Montevallo's Kinesiology Alumnus of the Year for 2015.

When Coach Blackwell left for Benjamin Russell High School, Daniel Veres, athletic director at Montgomery Catholic said: "I would like to thank Coach Blackwell for all he has meant to Montgomery Catholic over the last six years. Everyone knows he is a fantastic football coach, but beyond that, he is the kind of man every single parent in this world would want to mentor their student. He is a great man, a great coach, and a great friend. I wish him all the best in the next step in his coaching journey.?

Coach Blackwell shared these thoughts about leading Raider football: "I am honored and excited to begin this new journey with the Jackson Academy family! I look forward to working diligently with our faculty, coaches, and community to help build a strong family atmosphere. Brandi, Will, Kayla, and I are ready to build relationships and be an integral part of the Raider community. I will strive daily to do all the small things necessary to develop young men of character, integrity, toughness, and faith. Together as one, we will develop a life-giving culture that we all will be very proud of and want for years to come. I look forward to meeting all of you very soon! Go Raiders!"

We are looking forward to introducing Coach Aubrey Blackwell, his wife Brandi, his son Will (fifth grade), and daughter Kayla (fourth grade) to the Jackson Academy family!


#WeAreJA