Voted Best in Mississippi
Stadium Talk Rankings
---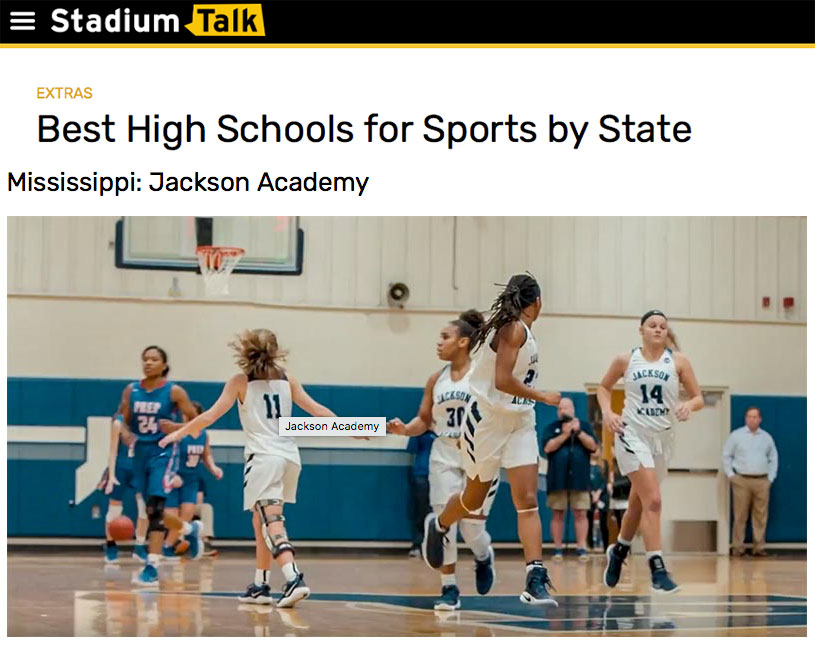 Jackson Academy was recently recognized on the Best High School for Sports by State List compiled by Stadium Talk. Stadium Talk launched in September 2018, and delivers informative and engaging stories for sports fans. You can read through the entire list by clicking here.

STADIUM TALK ARTICLE
Every level of sports has made great strides over the years, but perhaps no level has made a bigger jump than high school sports. The United States has over 37,000 high schools, and broadcast access to games and events for some high schools rivals that of collegiate programs. Just think: Forty years ago, the NBA Finals were aired on tape delay. Now, you can stream a live junior varsity archery contest between high school teams. With this increased exposure to high school sports, a bigger spotlight has been placed on athletic programs which are a cut above the rest. Some schools have dominant teams in many different sports. Others specialize in just one or two sports.
We have compiled a list of the top high school sports programs by state, plus Washington, D.C. The sports they specialize in include everything from football to swimming to rugby to crew. The criteria emphasized state and national championships above all else, but it also took into account all-time wins, record streaks and collegiate/Olympic/professional athletes produced.

MISSISSIPPI: JACKSON ACADEMY
As the largest independent school in Mississippi, Jackson Academy has a lot of student-athletes. But what makes its girls? basketball program so special is head coach Jan Sojourner. Sojourner has spent over 30 years leading the program and has racked up nine state championships during her time. Her teams have posted a winning record in all but one of her years there, and she?s been named the Clarion-Ledger State Coach of the Year twice.

City: Jackson
Year opened: 1959
Type of school: Private
Tuition: $15,900
Enrollment: 1,250 (K-12)

#WeAreJA